The studio is entered from the decking through double french doors leading into a reception area
This is equipped with a fridge, microwave, toaster, kettle and a Tassimo drinks machine for your convenience.

Our steriliser is also situated in reception. We ask all of our guests to leave any soiled equipment on the steriliser so that we can ensure that everything is clean and hygienic before being returned to the main room.

Off the reception area is a cloakroom with hand basin, WC and shower.


Basic toiletries, towels and a hair dryer are provided.

The main room is air-conditioned and has a high vaulted pine clad ceiling offering unparalleled opportunities for suspension using our 3 separate winches.

A queen sized double bed folds down from the wall leaving the maximum amount of play space when it is not required.

A first aid kit, Oxygen for emergency use and Foam and CO2 fire extinguishers are located just inside the door.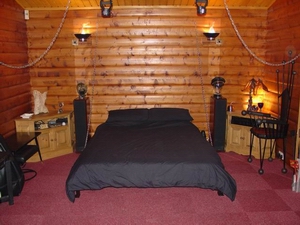 Atmospheric flame lights and a superb CD based sound system add to the warm ambience of the room.
We also provide a a wide selection of ambient music to suit your every mood.
If you wish to bring your own music the amp provides an input for an iPod or other MP3 player.
Broadband Internet access is also available via a wireless connection.
The large window overlooking the oak decking and fish pond is "limo" filmed for your privacy.
Click here to see some of the fantastic equipment provided for your enjoyment