EQUIPMENT

All included in the hire charge.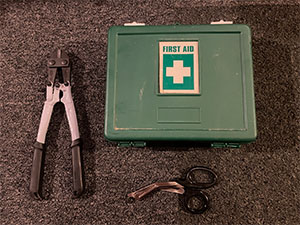 SAFETY FIRST
A first aid kit, bolt croppers and EMT Shears are kept just inside the main room to the left of the door as you enter. We bought the bolt croppers after I had to use an angle grinder to remove a poor sub's collar when they bad lost the key to their padlock!
CO2 and foam fire extinguishers are on the right. The Studio is protected by two smoke detectors. An Automatic External Defibrillator is also available.

THRONE
Our Mistress/Master throne chair.

ST. ANDREWS CROSS
Our St Andrews cross is tied to the wall against the drop down bed and needs to be removed when the bed is down. Always make sure it is secured at the top before use!

KNEELING BENCH
Our Kneeling bench is adjustable in height at both ends. It is positioned below one of our winches to allow legs to be elevated if facing upwards. An angled mirror above the bench allows a view of whatever is happening down below.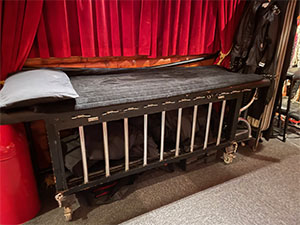 CAGE
Our cage doubles as a bondage table having rope cleats along both sides. It is large enough to sleep a sub. It can be used as a rack using a pulley at one end attached to one of our three winches. It can be moved around the room on lockable wheeled castors. There is a head pillory at one end.

SADDLE KNEELING BENCH
A versatile kneeler with plenty of tie points.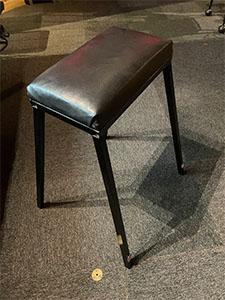 BENCH
The whipping bench has tie points at the end of each leg for securing your submissive.

STRAP CAGE
Our hanging strap cage is very popular with everyone who has tried it. It uses your own body weight to hold you in quite tight bondage and makes you feel a little weightless and floaty as it takes so much load off your feet. There is a bit of a knack to get into it so there is an instructional video on the Studio iPad.

FLOGGERS
A huge collection of floggers including heavy latex, horse hair, suede, leather, bamboo and cord.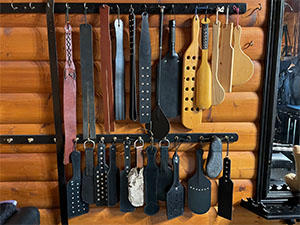 PADDLES
A vast collection of paddles and straps in leather and wood. We even have a DAP! (Dunlop Applied Plimsole)

SYBIAN
The world famous Sybian, orgasm machine, for females only.

SYBIAN ACCESSORIES
A full set of accessories for the Sybian. A large G Spot, a small G Spot, a double insert (use your imagination ;-), no insert at all, a finger (Amusing) and the standard insert with three prosthetics of different sizes.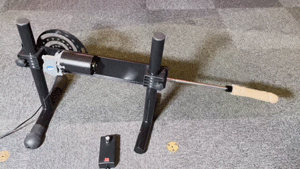 F MACHINE
Our reciprocating, variable speed, fucking machine. It is adjustable in height at both ends allowing the angle to be changed. All of our vac-u-lock dildos can be used with it. We even have a head cage that can be attached for a powered BJ!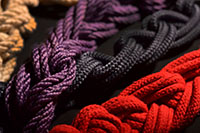 BONDAGE
We have a huge selection of rope in different colours and guages to get your Shibari juices flowing. We also have black cling film, ribbon, string and zip ties for all your bondage needs. Vet wrap and PVC bandage is also available for purchase.

INSERTABLES
A large range of dildos and butt plugs from small to very large! We ask that clients use the provided condoms on all insertables for hygiene. Several of our insertables have vac-u-lock holes enabling them to be used with our reciprocating Fucking machine and strap-on harnesses. Others have suction cup bases. That's a 50 pence piece on the top right to give you a sense of scale!

GLASS AND ACRYLIC
Several acrylic and glass insertables. These can be used without condoms as they can be completely sterilised.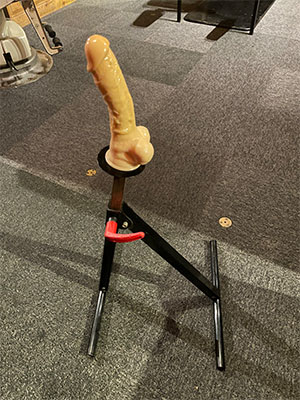 DILDO STAND
An adjustable height stand that allows dildos with suction cup bases to be attached.

MALE CHASTITY
A selection of lockable male chastity devices with different sized ball rings.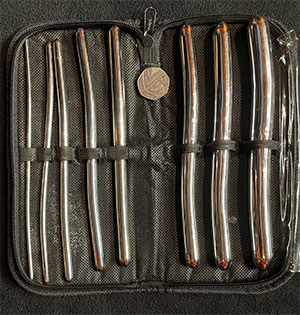 SOUNDS
A full set of urethral sounds which can be used with our E-stim boxes.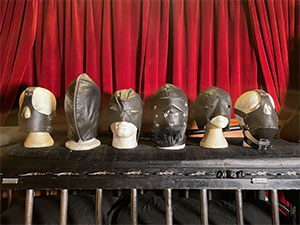 HOODS
A selection of hoods for tops and bottoms. We also have a number of masquerade masks for anonomising in photography/videograpohy.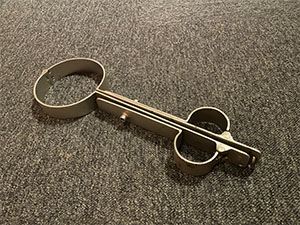 METAL BANJO
A banjo for steel bondage enthusiasts. Only for small wrists I'm afraid.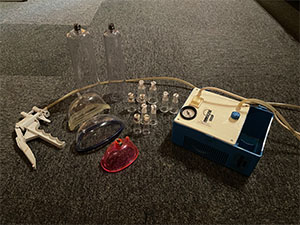 VACUUM
Both a manual vacuum pump and a mains powered one. They can both be used with our three different sized pussy cylinders, two cock cylinders, two breast cylinders and several pairs of nipple/clit cylinders.

WAND VIBRATORS
Two mains powered wand vibrators and a completely waterproof rechargeable wand that's safe for squirters and gushers.

VIOLET WAND
A US made, modern violet wand. Accessories include a foot switch, contact pad, mushroom head, comb, ring head and several different sized bulbs. We also have two electric floggers that can be used in conjunction with the contact pad.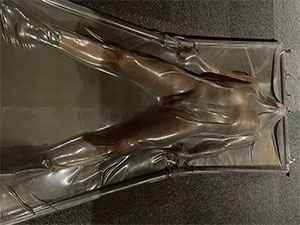 VAC BED
A black, semi-transparent vac bed that maintains vacuum when the noisy vacuum cleaner has been switched off.

SPREADER BARS
A selection of spreader bars of various lengths. The ones with oval loops at either end are designed to attach directly to our wrist and ankle cuffs by passing the straps through the loops.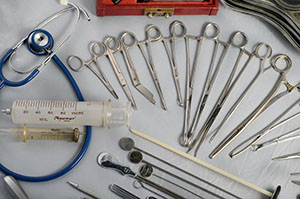 MEDICAL EQUIPMENT
We have a plethora of medical equipment and toys.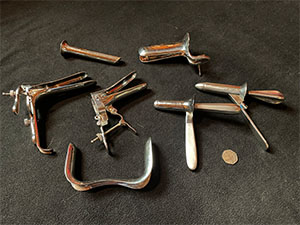 SPECULUMS
A range of vaginal and anal speculums. We even have a nasal speculum! UGH!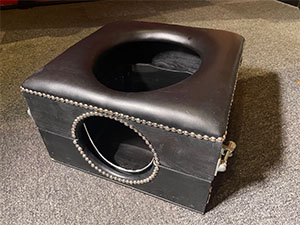 QUEENING BOX
A lockable queening/toilet box with an integral waterproof tray

E-STIM BOXES
The ubiquitous Erostek ET312 is the Rolls Royce of E-Stim boxes, sadly no longer in production. We also have Pleasuretec and HotBoxx devices.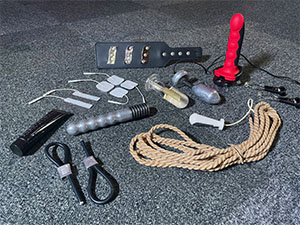 ELECTRICAL ACCESSORIES
A range of accessories for use with our E-Stim boxes. These include TENS pads, cock rings, butt plugs, a dildo, clamps and even conductive rope.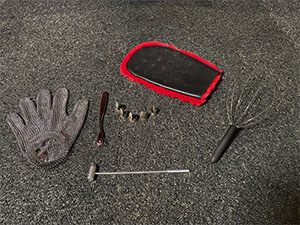 SENSATION PLAY
Kit for sensation play includes a chain mail glove, wartenburg wheels, "Kitty KaT" claws, a vampire mitt (sharp on one side, soft on the other), a pronged head massager and an acupuncture hammer.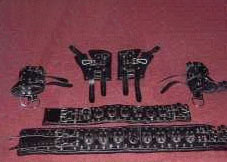 SUSPENSION
Fetters suspension kit including two pairs of ankle lift cuffs, a pair of wrist cuffs and two heavy duty lifting belts.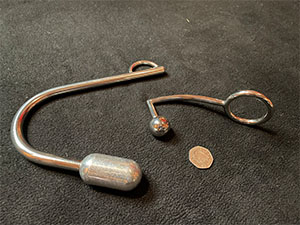 HOOKS
Anal and/or vaginal hooks.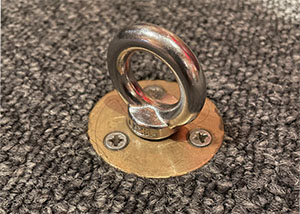 TIE DOWN POINTS
There are six tie down points on the floor, three under each winch. The rings are removable.

If you have got this far then you may like to look at our frequently asked questions page.
Click here to see it.
Site problems? Please report them to
Web design by The Fetish Studio
Copyright © The Fetish Studio 2005-2022 All rights reserved