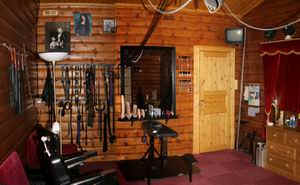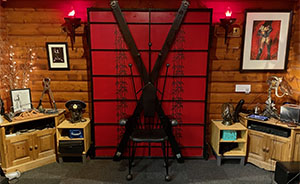 For the Fetish/BDSM photographer/videographer we have a superb range of professional studio equipment available for your use.
We provide all the equipment necessary to bring your fetish shoot to life. Instruction and guidance on the use of the equipment is provided free of charge.

2 Bowens Gemini GM500
2 Bowens Gemini GM250
Lighting stands and tripods
Sekonic flash meter
Radio flash triggers
Umbrellas and softboxes
Background reflector
Snoots and gobo spot
Gels and reflectors
2 LED Panels for video

Paper roll backdrops including chromakey so you can add your own background
and.... a plethora of BDSM equipment and props!

Instruction in the use of professional equipment is available. We can set up the lights before your shoot to save you expensive studio time.

For models we provide a safe (chaperoned), hygienic, comfortable, warm in the Winter, cool in the Summer, environment.
We are air conditioned and understand how hot it can get under studio lights. Don't worry, your make-up won't melt at the Fetish Studio!

Site problems? Please report them to
Web design by The Fetish Studio

Copyright © The Fetish Studio 2005-2022 All rights reserved